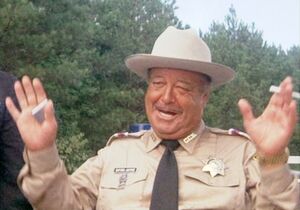 Sheriff Buford T. Justice or Smokey is a character in the feature film Smokey and the Bandit, and its sequels Smokey and the Bandit II and Smokey and the Bandit, Part 3.
He was played by Jackie Gleason in all three films.
About Smokey
He is a Texas county sheriff. He has two brothers, Gaylord Justice and Reginald Van Justice, and a son, Junior, who are all also in law enforcement.
When Carrie left his son at the altar, he followed her with Junior in tow. They continued the chase after her car broke down and Bandit picked her up hitchhiking. In high-speed pursuit, they followed the Trans-Am all the way back to Atlanta, despite a number of accidents that nearly destroy the squad car. It was far outside his jurisdiction, but it had turned into a personal vendetta against Bandit.
Three years later, the chase resumed when Carrie left Junior at the altar again. This time, Smokey called on his brothers for help.
Three more years later, Big and Little Enos Burdette make a bet with him about carrying a large stuffed fish from Florida to Texas. They sabotage him along the way, but Snowman lets him win in the end.