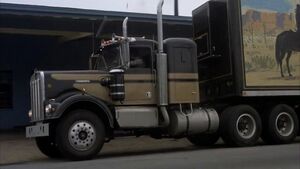 Kenworth is a make of medium and heavy-duty Class 8 trucks. Snowman drove one in the 1977 feature film Smokey and the Bandit and its sequels, Smokey and the Bandit II and Smokey and the Bandit, Part 3.
Snowman and Bandit originally drove a 1974 Kenworth as a team. When Big Enos Burdette made a bet with Bandit, he let Snowman drive the truck, while he drove blocker in the Trans-Am. They drove from Atlanta to Texarkana, Texas, fairly uneventfully. Then they loaded the truck with four hundred cases of Coors beer, and transported it back to the Burdettes in Atlanta.
They later used it when when the Burdettes hired them to transport a crate. After they opened the crate and discovered Charlotte the elephant inside, they hauled her on an open second trailer behind the first.
Behind the Scenes
At least three trucks were used as Snowman's in Smokey and the Bandit. Two of them were 1974 models with silver emblems on their grills; the third has a 1973 gold 50th anniversary emblem.